Books: All Ages
Ref:
Date:
Location:
Photographer:
Ref:
Date:
Location:
Photographer:
Book: Wheel of Life by Richard Shilling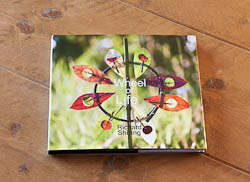 Richard Shilling's second book 'Wheel of Life' depicts his recent explorations into the world of Land Art where he makes sculptures solely from natural materials.

Inside you are taken on a journey as he explores colour, sunlight, geometric shapes and impossible rock balances, the vital moment of each is captured in a high quality photograph at the point where each sculpture is at its peak of balance and intensity.

Richard also explains what he has learnt when practicing his art and writes about his thoughts, feelings and the philosophy of Land Art as he explores nature and his relationship with her.

This book contains nearly 100 full colour photos, stories and essays on 160 pages including previously unpublished photos.

Click below to see a preview of the book and to be taken to a place where you can purchase a copy.